Business owners, bookkeepers, and office admins know how tedious it can be to track and organize business expenses. It's a necessary task, but let's be real – it's not exactly the most exciting part of running a business. That's where platforms like Dext or Expensify come in. Clyr is part of the same family, but significantly more advanced thanks to our AI engine. Our platform makes it easy to track spending as it happens, saving receipts at the point of sale and eliminating the need to chase down paper receipts at the end of the month.
But we didn't stop there. Our business expense management platform takes it to the next level, providing real-time insights and oversight to help you not only track expenses, but also control them. That's right – no more expense reports. Just pure, unadulterated control. It's like a dream come true for your inner control freak (and let's be honest, who isn't secretly a control freak?).
So, are we just splitting hairs here or is our platform really that different? We'll let you be the judge. Give it a try and see the difference for yourself. Your business (and your sanity) will thank you.
What are receipt management apps?
Receipt management apps improve the expense process by collecting and organizing business receipts. When an employee makes a purchase, they open the app, take a picture of the receipt, select a category, and maybe add a note or two. Once it's time to reconcile the expense report, the bookkeeper or accountant knows who spent money and what it was for—as long as they saved their receipt in the app.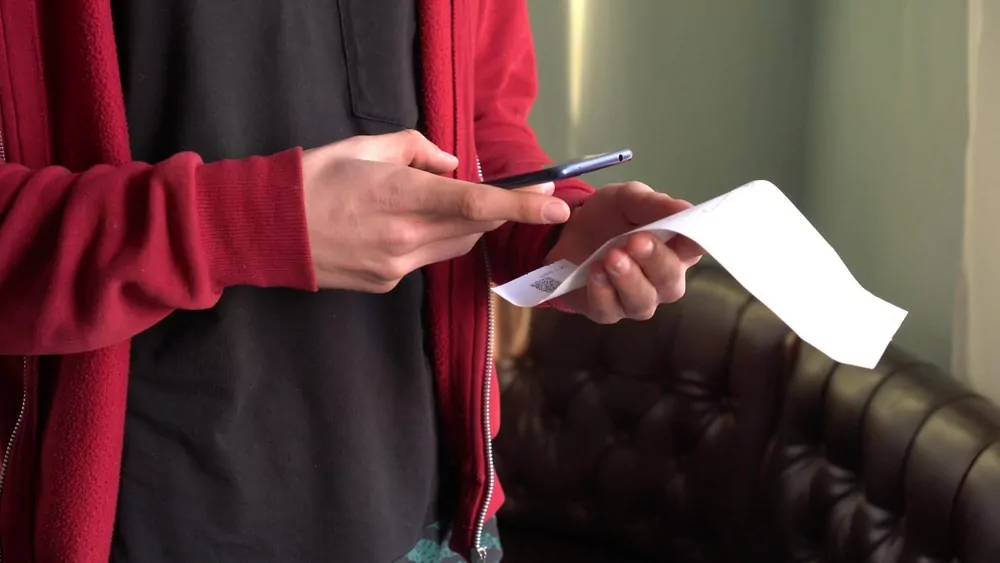 These apps can be useful, but there are disadvantages. For example, some receipt management tools don't connect with your bank account, so you might miss expenses if someone forgets to save their receipt (*not* a problem you'd experience with Clyr!).
Clyr offers an alternative to traditional receipt management apps by providing an SMS chatbot that makes capturing receipts even easier, without the need for an app. Additionally, with Clyr's real-time alerts, if Tony from HR spends $500 on pizza, it will be discovered the same day. This helps to address the issue of receipt apps not being able to control what someone spends, as you would be immediately aware of large expenses rather than waiting until the end of the month.
What are business expense management apps?
Receipt management apps solve the receipt issue—but expense management apps put you in complete control of business spending. As a result, you always know where your money goes. Running a business is a full-time job, but managing your finances doesn't have to be with the right expense management app.
Why business expense management apps are better for bookkeepers and small businesses
Managing the books for a small business isn't easy—and keeping track of your spending can be a pain in the behind. In addition to tracking receipts and making bookkeeping faster and easier, business expense management tools offer a ton of other nifty features.
Better spend control
Receipt management platforms just track your spending, they don't help you control it. With expense management solutions, you'll know exactly when, why and by whom the money was spent while getting to use your preferred business card.
Established Card Programs Are Always Better
Business credit cards can offer a range of benefits for small businesses, including the ability to earn rewards and discounts, improve cash flow, and establish business credit. When used responsibly, business credit cards can provide a convenient and flexible way to finance business expenses, allowing you to make purchases and pay bills without the need for cash or checks. Additionally, business credit cards can help to keep personal and business finances separate, making it easier to track and manage business expenses.
Many business credit cards also offer additional perks, such as extended warranties, purchase protection, and travel insurance, which can provide added value and protection for your business.
Using an established credit card company such as American Express or Chase Rewards can also be beneficial because they offer a wide range of rewards programs and have a strong economy of scale, which allows them to offer the best possible rewards to their customers.
Overall, business credit cards can be a useful tool for small businesses looking to improve their financial management and achieve their business goals.
Pushes data to accounting software, which means no more expense reports
Tired of spending hours every month reconciling expense reports? Expense management apps often integrate with accounting software tools like Quickbooks to input all your expenses automatically. It's like having a little expense fairy… but less creepy. You can say bye to expense reports—and get better visibility into your spending. Bonus, your accountant will have easy access to all your spending data with the click of a button.
Access to spending data
Knowing where your cash goes isn't just a good idea, it's often a requirement. Investors, the IRS, and your CFO (if you're cool like that) all want to know where funds go. Expense management software offers deeper insights into spending, including tracking spending by card, category, day, etc. Want to know how much Sue spent at that marketing conference or how much the sales team spends on client dinners? With a few clicks, all that data is right at your fingertips.
Clyr: the AI-powered expense management system businesses and accountants love
Receipt management apps have their place—if all you need to do is store receipts. If you want to waste your time reconciling expense reports and tracking down errant charges, no one's going to stop you.
If you want a better way to track expenses and control spending, Clyr is here to help. Just a better way to manage your expenses and control business spending. You focus on building your empire and let us take care of expense management.